3 trends affecting 2019~2025 global market development of energy storage system
Research suggests that the global market for energy storage systems will grow rapidly in the coming years, driven largely by growing concerns about carbon emissions and the increased use of renewable energy. Carbon Dioxide is the most common and dangerous greenhouse gas that affects global climate change, and it is increasing every year. In 2018, the Mauna Loa Atmospheric Baseline Observatory in Hawaii reported CO2 concentrations close to 411 parts per million (PPM) .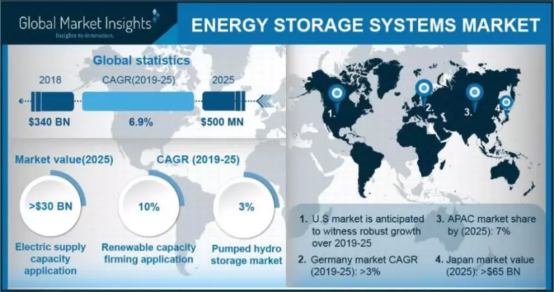 Energy storage system
Today, governments around the world are working to limit carbon emissions, including the deployment and expansion of more solar and wind farms to replace traditional fossil fuels, and the development of innovative technologies to improve the efficiency and performance of batteries To support large-scale deployment of clean energy systems.
The following are three main trends in increasing the market share of global energy storage systems within the projected time frame:
1. LARGE SCALE DEPLOYMENT OF RENEWABLE POWER GENERATION SYSTEMS
A report by the International Renewable Energy Agency (Irena) suggests that increased efficient energy use and electrification will help meet global climate goals by 2050. Deployable Renewable Energy Technologies and cost-effective energy storage solutions can improve grid efficiency and contribute to meeting global climate commitments.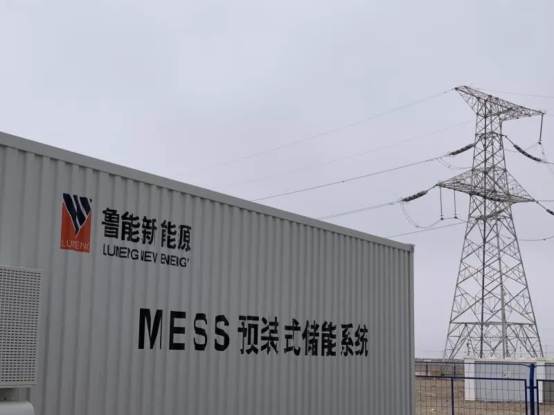 Energy storage system
Renewable electricity generation accounted for 45 percent of global energy demand growth in 2018, according to the International Energy Agency. Island energy storage system will play an important role in the next stage of energy transformation. As wind and solar power surge, more deployed storage solutions will greatly help decarbonize key applications and increase the size of the global storage market.
2. Growing power demand in the Asia Pacific region (Apac)
Hybrid grid system design company shares that the increase in global electricity consumption can be attributed to the strong industrialization process and the surge in consumer purchasing power in the asia-pacific region, as well as increased utilization of electronic equipment. Indeed, China and the US remain the world's two largest electricity markets, accounting for about 70 per cent of global electricity demand.
According to the International Energy Agency:
• China's electricity demand grew 8.5 percent in 2018, thanks to steady growth in industrial production.
• India's electricity demand rose 5.4 percent in 2018 as a result of massive electrification projects in rural areas.
Growing renewable energy will be increasingly integrated into the power grid, as well as stringent government regulations to ensure energy efficiency, which will help the storage industry in the asia-pacific region. The introduction of more efficient energy storage technologies, unpredictable changes affecting the climatic conditions for renewable energy generation and continued growth in electricity demand are expected to contribute to the expansion of the main battery suppliers in the region.
3. Energy storage systems will use more lithium-ion Battery
The lithium-ion battery has the advantages of high energy density, long service life and low self-discharge rate. It is widely used in EV, hybrid electric vehicle, consumer electronics and other applications.
The introduction of the latest features into smartphones and advances in electric vehicle technology will greatly stimulate the demand for more reliable and efficient lithium-ion battery, thus boosting the global market for energy storage systems in the coming years.