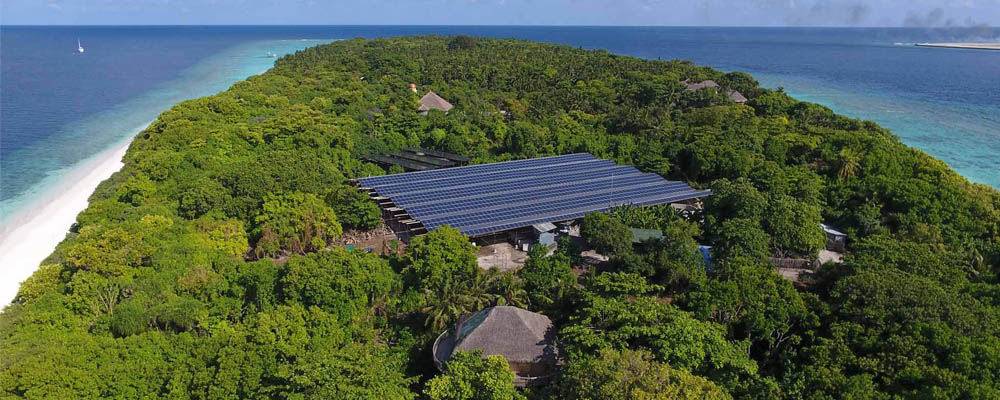 Soneva Fushi PV-Diesel Hybrid System
The cost of photovoltaic systems has fallen by more than 50% in the last three years: solar energy is often the most economical alternative energy source in remote areas of the world's solar belt. It makes sense to combine photovoltaic and diesel systems so that the solar radiation, which is both abundant and free, can be used profitably as an energy source for industrial applications. What exactly is a photovoltaic-diesel hybrid system?
What is a PV-diesel hybrid system?
A "hybrid" is formed by combining two components that produce the same or similar results. A PV-diesel hybrid system typically consists of a photovoltaic system, a diesel generator set, and intelligent management to ensure that the solar energy fed into the system is exactly matched to the prevailing demand.
This solar-diesel hybrid power system is located on Soneva Fushi island which is a really nice luxury resort in the Maldives. Since the local diesel price is fairly high, the system integrates photovoltaic and diesel power generation together to reduce power costs. With the current configuration, PV generation would reduce around 25% daily consumption of the island, and the investment can be recovered in less than 4 years.
How does a PV-diesel hybrid system work?
Basically, the photovoltaic system complements the diesel generator set. It can provide additional energy when the load is high or reduce the fuel consumption of the Genset. In the future, excess energy can be selectively stored in the batteries, allowing the hybrid system to use more solar energy even at night. Intelligent management of the various system components ensures optimum fuel economy and minimizes CO 2 emissions.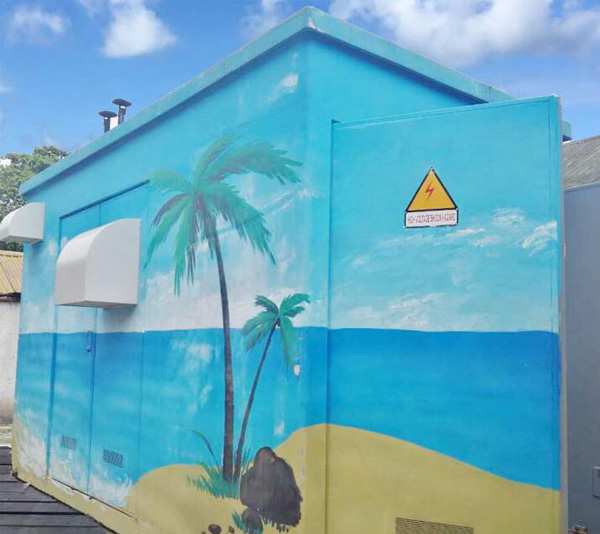 Soneva Fushi PV-Diesel Hybrid System
What are the advantages of a photovoltaic diesel hybrid system?
Payback time for PV-diesel hybrid systems
Payback time for PV-diesel hybrid systems
Although the initial cost is higher compared to a power system using diesel generators, PV systems can be amortized in as little as four to five years, depending on the site and system size, and have lower operating costs.
In addition, PV systems are very flexible and can be expanded on a modular basis as energy demand grows. Compared to pure Genset systems, PV-diesel hybrid systems offer numerous advantages.
Lower fuel costs
Reduced risk of fuel price increases and supply shortages through optimised planning
Minimal CO 2 emissions (protection of the environment and facilitation of CO 2 certificate trading)
The SMA solution for photovoltaic diesel hybrid system technology is the SMA Fuel Saving Solution. The information provided below explains how it works and you can find out other interesting facts.
When and where does a PV-diesel hybrid system make sense?
For large industrial loads in remote areas, diesel generator sets complemented by photovoltaics are the ideal solution under the following conditions.
When the effective cost of diesel fuel exceeds US$ 1 per liter.
When intelligent communication between the genset and the PV system promotes demand-driven use of PV power.
when local solar radiation conditions allow the use of PV (especially when it is economically feasible to generate more than 1,500 kWh/kWp of PV power)
Zenergy Tech is one of the region's leading renewable energy integrators — specialized in the system designing, implementation, financing, and O&M of ESS hybrid power plants and On/Off-grid PV solar power plants, in both the business installation and utility-scale level. Over a 12-year history, Zenergy Tech is involved in almost 2 gigawatts of renewable power system installation, creating a huge amount of clean energy for our customers. If you want to know more information about zenergy systems, welcome to contact us.